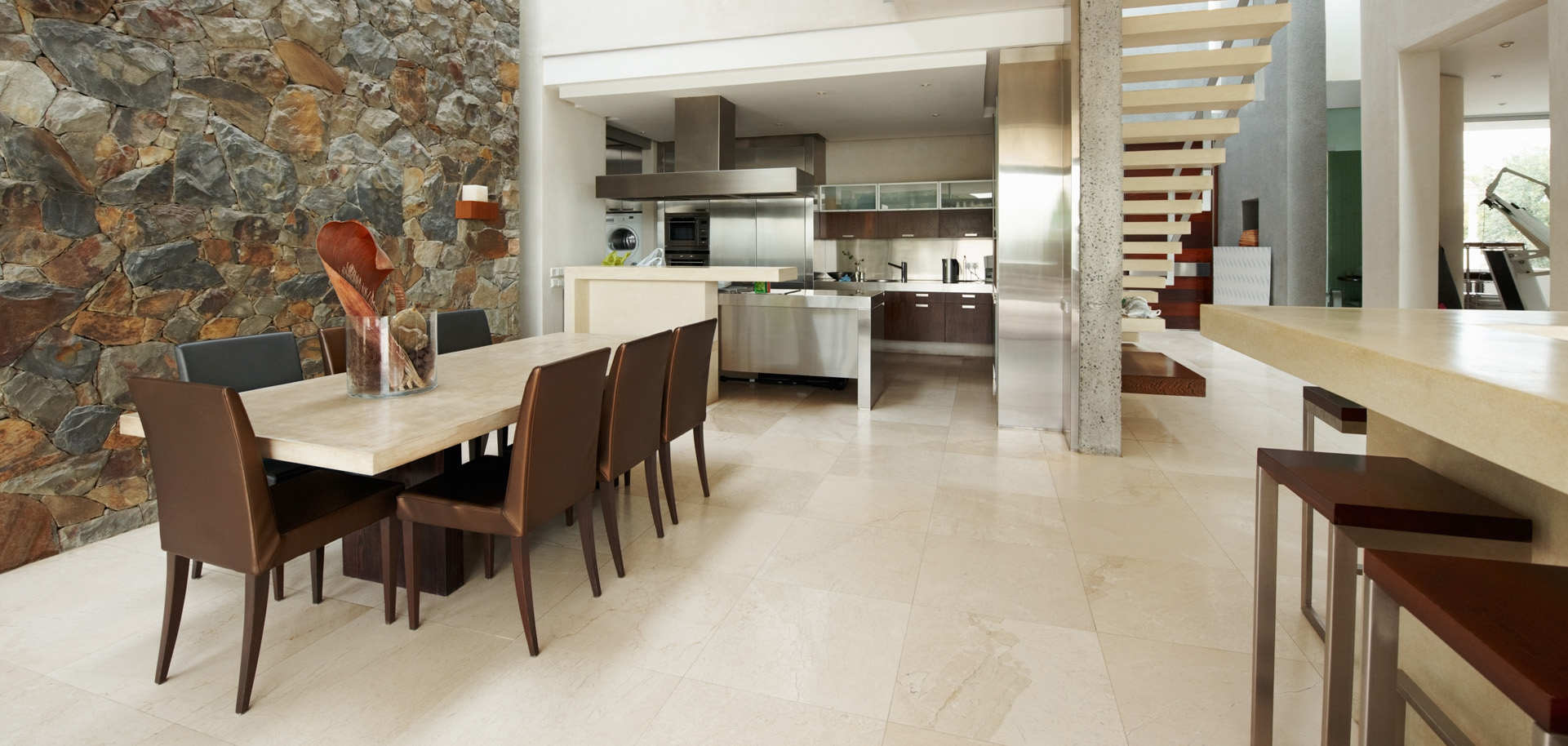 The wonderful Crema Marfil marble from the Coto quarry is another prestigious and much-desired marbles that our company has. The Crema Marfil marble is internationally recognized as the best cream marble.
This natural stone is characterised by its magnificent polishing and by its excellent physical qualities. We stand out its prodigious and distinguished cream color, which aims is to give off luxury and elegance, from anywhere, enhancing the luminosity wherever this type of marble is placed. The qualities of Crema Marfil marble make it the best choice of all architects and decorators when choosing cream marble.
When we talk about the term luxury in our sector, we have undeniably the two perfect examples depending on the colour-scheme that we want to incorporate into the decoration. If we opt to choose a dark marble, which transmits elegance and luxury, we are identifying the Dark Emperor marble, and if, on the contrary, we prefer to set a space with a prestigious marble closer to cream tones, it is without a doubt, the Crema Marfil marble, the most precious natural stone par excellence on the market.
 The Crema Marfil marble provides luxury with its cream tones. You can achieve a perfect beauty of the place that will never go out of style, being this wonderful natural stone, in charge of giving elegance, power and clarity in any room that we wish to decorate.
In our company, Mediterranea Stone (Alicante) Spain, you can find the Ivory Cream marble at very competitive prices, being these prices adapted according to the qualities of Ivory Cream marble that you want to place in a space.
The Ivory Cream marble is an ideal natural material to be incorporated in any project, either in the interior of a house by covering the floor, (being able to be in different qualities, either premium, standard, commercial…), as well as different finishes that can be given to the Ivory Cream marble; polished, aged, honed, bush-hammered, flamed …
More and more works and projects are incorporating the Ivory Cream marble in tiles of different formats to cover both interiors and exteriors works. The ivory colour is a classic that makes the Ivory Cream marble stand out from any other beige coloured marble, being the pearly cream marble per excellence.
When looking to cover a work with natural materials in light tones that transport you to the most precious nature, we always make comparisons between ivory coloured marbles versus white coloured marbles, however, the cream colour provided by the Ivory Cream marble is an unquestionable natural material to give elegance and beauty to a work,
therefore, it is the perfect choice to incorporate into a project that will never go out of fashion.
"Crema Marfil marble is considered by experts in decoration and architecture, as the greatest prize that nature has given to human in terms of interior design."